SME funding specialist grew turnover 22-fold in just three years
Simply has kept lending to UK SMEs throughout pandemic
 UK SME lender Simply has been named in the Top 50 of the FT1000 list of Europe's fastest-growing businesses. The business was also the fourth fastest-growing in the European financial services sector.
Simply grew its turnover 22-fold from £660,000 in 2017 to £14.8 million in 2020. The company sustained its growth through the Covid-19 pandemic by continuing to support UK SMEs.
In September it launched its end-to-end digital finance service Simply Connect, which allows businesses to manage their funding from application to final payment entirely online. Simply Connect is Open Banking-enabled, making the underwriting process faster and more efficient for borrowers.
Simply was founded in 2017 by a group of asset finance specialists, backed by a private equity fund managed by Cabot Square Capital. Since inception it has provided more than £700 million in lending to more than 4,500 small and medium British businesses, primarily to provide vital business assets, machinery and other equipment.
Simply focuses on sectors of the UK economy that are often overlooked by mainstream lenders, such as by providing crucial funding to industries like transport, construction, manufacturing, recycling and agriculture.
The British Business Bank recently increased Simply's funding line under its ENABLE Funding programme to allow £300m of capacity for Simply to help UK SMEs grow.
The FT1000 list, a joint venture between the Financial Times and research provider Statista, tracks the 1,000 fastest-growing businesses in Europe.
Mike Randall, CEO of Simply, says Simply's growth over the last three years is evidence of it working hard for its customers through one of the most challenging periods in UK economic history.
Says Mike Randall: "The last two years have been extremely difficult for a lot of British businesses and we have tried to do our part to ease the burden. We kept lending to UK SMEs when many didn't and the growth we've seen is a testament to that."
"We see our customers as long-term partners, and that means sticking by them when times are tough. Our growth isn't just numbers – it's proof that we have helped thousands of SMEs steady the ship and return to growth through the pandemic."
"We couldn't have achieved any of this without our customers and partners. Thanks to them, we're well on track to continue our growth trajectory."
Simply revenues rise 22-fold in just three years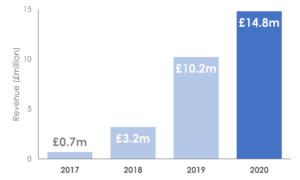 About Simply
 Founded in 2017, Simply is an SME lender focused on helping small and medium British businesses reach their full potential. It has provided more than £700 million in lending to more than 4,200 UK SMEs in less than five years.
Simply provides finance for a range of assets including plant, machinery and equipment in sectors such as manufacturing, transportation, recycling construction and agriculture. Simply is a trusted partner of the British Business Bank.
Contact
Katie Bakewell
Simply
Tel: +44 (0)203 369 6000
Richard Crossan
Mattison Public Relations
richard.crossan@mattison.co.uk
Tel: +44 (0)20 7645 3636
Mob: +44 (0)7446 375 555