The annual AF50 is the UK's most influential survey of business and equipment lessors, which tracks the health of the market and identifies the key trends that are set to have an impact on the sector.
Simply are delighted and proud to be recognised in the asset finance top 50 for this year, moving up four places from last year and ranking number 35.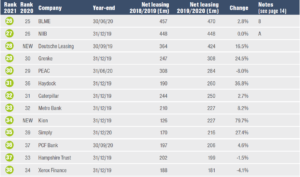 During unprecedented times, Simply have continued to assist customers, come rain or shine. Simply look forward to sticking to their values and helping more SME's in the future.
Complete the form at the end of this article to download your copy of the AF50 UK 2021.
Asset Finance International – AF50 UK 2021 reveals country's largest asset finance companies.